Article published on 29 January 2020
On 21 December 2019, the city of Vannes (Morbihan) officially opened a play area accessible for users with reduced mobility, on the Etang de Tohannic site, the largest inclusive play area ever constructed in western France.
The opening ceremony was attended by the Mayor, David Robo, elected representatives, associations, children and their families, professionals from specialist organizations and Proludic representatives.

Vannes invested €500,000 in this 750m² play area containing 30 structures and 50 different play activities.
The city's clearly stated objective is to enable children both with and without disabilities to optimally enjoy the benefits of play equipment in the open air.
It's an innovative project aiming at favouring tolerance and living together in harmony. The idea was to enable children to play together, regardless of whether they have a disability or not. We wanted it to be perfectly suited to all siblings.

Chrystel Delattre, City Councillor responsible for disability and accessibility in Vannes
Proludic, strongly committed to inclusion of all children in play areas, designed, created and installed the play area. The play equipment items meet the needs of children with all types of disability including motor, auditory, visual, cognitive and intellectual: wheelchair adapted swings, multi-activity structures with access ramps, wide platforms and play panels at ground level, audio and tactile play items, signs in braille and sign language, wraparound spring-mounted play items, trampolines… All installed on a highly themed surface with contrasting colours and including raised areas.
A sensory trail weaving its way through the play spaces has different surface materials (artificial grass, pebbles, balancing logs, brushed concrete, paving stones, etc.) and reinforces the fun appearance of the site, leading children to new tactile experiences and creating multiple stimuli for visually impaired children.
We are very proud to have been selected by the city of Vannes to create the Etang de Tohannic play area.
At Proludic, inclusion is a key aspect of our philosophy because we believe that all children should have access to play and to the same play facilities.

Denis Le Poupon, Founder and CEO of Proludic
Find out more about Les Fleurs de Tohannic play area.
Browse our thematic guide "The inclusive play area"
Recent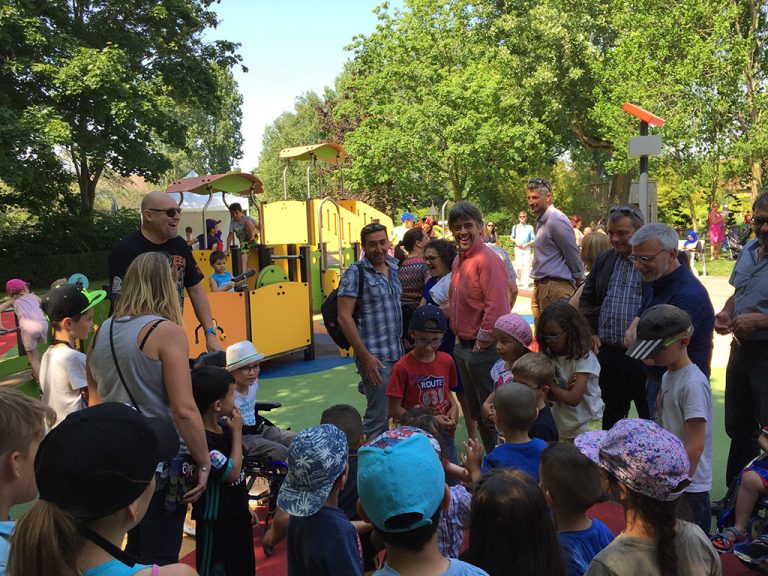 Article published on 30 June 2017
On June 14th, the city of Grande-Synthe (in the French region Hauts-de-France) opened the new play area accessible for children of all abilities, with the Mayor, Damien Carême, elected representatives, children and supervising staff from specialised institutes, families from the Grande-Synthe region and Proludic representatives. 200 m2, €80 000 worth of investments… this play area corresponds...
Article published on 20 July 2016
Robin Hood takes on Sherwood castle at the Posthoorn campsite in Holland. The 22nd of April was the official opening of a new play area in the Posthoorn campsite. Several classes from the local primary school were invited along to try out this new play area, designed by Proludic and themed around the...