The much-anticipated inclusive playspace at Lt Cantello Reserve in Hammondville officially opened in February 2022, and the community loves it! Designed in collaboration with Liverpool City Council, Variety – the Children's Charity NSW & ACT and Proludic Australia, the Variety Livvi's Place playground is a unique place where people of all ages and abilities can play together in a fun, challenging and safe environment. It features unique and state-of-the-art equipment including the first wheelchair accessible Inclusive Seesaw® in Australia!
Site: Lieutenant Cantello Reserve, Stewart Ave, Hammondville NSW 2170
Client: Liverpool City Council
Consultant team: Variety – the Children's Charity NSW & ACT
Age Range: all ages, all abilities
Opening date: 5 February 2022
Liverpool City Council in partnership with Variety – The Children's Charity NSW/ACT developed a concept plan to guide the development of the Variety Livvi's Place Inclusive Playground in line with the "Everyone Can Play" guidelines, to create a new all abilities playground that provides excellent leisure activities for the local community of Hammondville.
Proludic was pleased to collaborate with Council and Variety – The Children's Charity on the design, supply and installation of the playspace. The new playground is set to become a key community hub, and forms part of a national network of inclusive play spaces that Variety has helped create.
This new playground is the result of collaboration between Council, Variety and the local community and will be a fantastic place for families to socialise and for children of all abilities to play.

Liverpool City Council Mayor Wendy Waller

One of the main features of the playground is a large inclusive & accessible bespoke Adventure Tower which stands over 7 meters tall. It includes custom designed graphics with Grafic Games to feature panels of gumtree leaves that are attached to the tower structure. Designed for children from 2 to 12 years, the tower offers an extensive combination of physical and interactive play activities:
A giant tube slide allows children to experience thrilling sliding sensations ;
A ground level sensory play table and benches for taking a breather or enjoying slower-paced activities ;
A wide staircase with enclosed side panels enabling children to safely access the tower, along with a supportive carer when needed ;
A transfer platform provides children of reduced mobility with easy access to the play panels and thereby allows them to play with other children.
A true innovation in inclusive play design, the Proludic Inclusive Seesaw (J987®) enables 2 children using a wheelchair to enjoy gentle, reassuring rocking movements together with up to 4 other children. Its unique design features include wheelchair access on both sides, a wheel locking system, a spring and shock absorbing system for gentle rocking movements and a platform for up to 4 standing children to encourage play and interaction between all children.
The play area includes even more inclusive play equipment that provides fun for everyone:
A custom Inclusive Embankment Slide with a transfer platform allows several children or a child with a carer to enjoy gentle sliding sensations;
Our Pod Swing (J435-C®) in the oak-effect Kanopé style with grey Pod seat enables young children of all ages the joy of swinging together, flying through the air!
Our wheelchair-accessible Inclusive Roundabout (J2409) provides fantastic sensory and motor stimulation as well social interaction with other children;
With the Rotofun (J2411), younger children gradually learn about the fun of speed and rotation whilst feeling secure.
Audio and Musical Play with Proludic's Tubophone (J3410) and Percussion Play's Harmony Bells, Babel Drum and Handpipes stimulate children's auditory perception, help develop creativity and encourage interaction.
Quiet and nature play areas have been incorporated in the playground and include the Origin' Playhouse (J4940) and Origin' Totem painted posts, giving children a chance to enjoy a break or chat with friends before returning to more dynamic activities.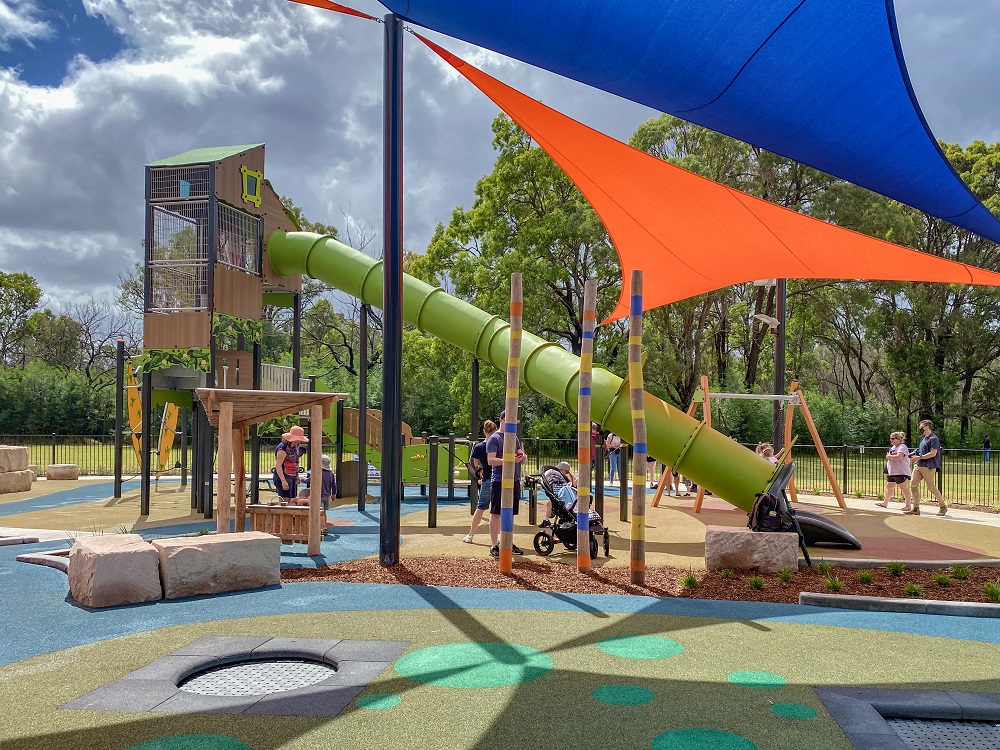 The installation of pathways and accessible safety surfacing was carefully considered to allow for safe and easy access throughout the playspace and to the play equipment. In addition, seating and shade ensure a comfortable place for everyone to play and relax together.
We were pleased to hear very positive comments from Liverpool City Council regarding the successful collaborative work conducted throughout the project:
It has been so good working with everyone on this project.

Paul Hofman, Project Manager Open Space Construction at Liverpool City Council
Site location: