City: Villeneuve-lès-Maguelone (Pyrénées-Atlantiques – France)
Location: Grand Jardin Park
Year: 2019
The town of Villeneuve-lès-Maguelone wanted to inject new energy into the Grand Jardin park by upgrading the old play area with new equipment. The aim was to create a friendly space where the town's inhabitants could relax with their families.
The layout was designed to include the classic play area apparatus: multiplay structures, springers, roundabouts and play panels. These structures create discovery and meeting spaces where children are able to develop their social skills.
To reflect the warm and welcoming atmosphere of the Grand Jardin park, music was an obvious theme for the new play area. The products are decorated with musical notes using Proludic's exclusive Grafic Games® personalisation technique and the selected play equipment also reflects this musical inspiration: Xylophones, Musical Flowers or Percussion Instruments. In this way, children play with equipment that allows them to practice music in an environment decorated with musical notes. Vision and hearing are stimulated at the same time.
---
A space for young children from 1 year of age
The first space is designed for children from 1 year of age. The components encourage the development of musical awareness and motor skills. The central element is the "hamlet of the elves", a little village with many play components and individual music-themed play activities: the Xylophone, and the Musical Flowers, inclusive equipment consisting of flowers that make sounds, and the Tom-Tom. These musical activities stimulate children's hearing, help develop creativity and encourage interaction with other children. While playing, they learn to memorise sounds and develop their senses according to the rhythm.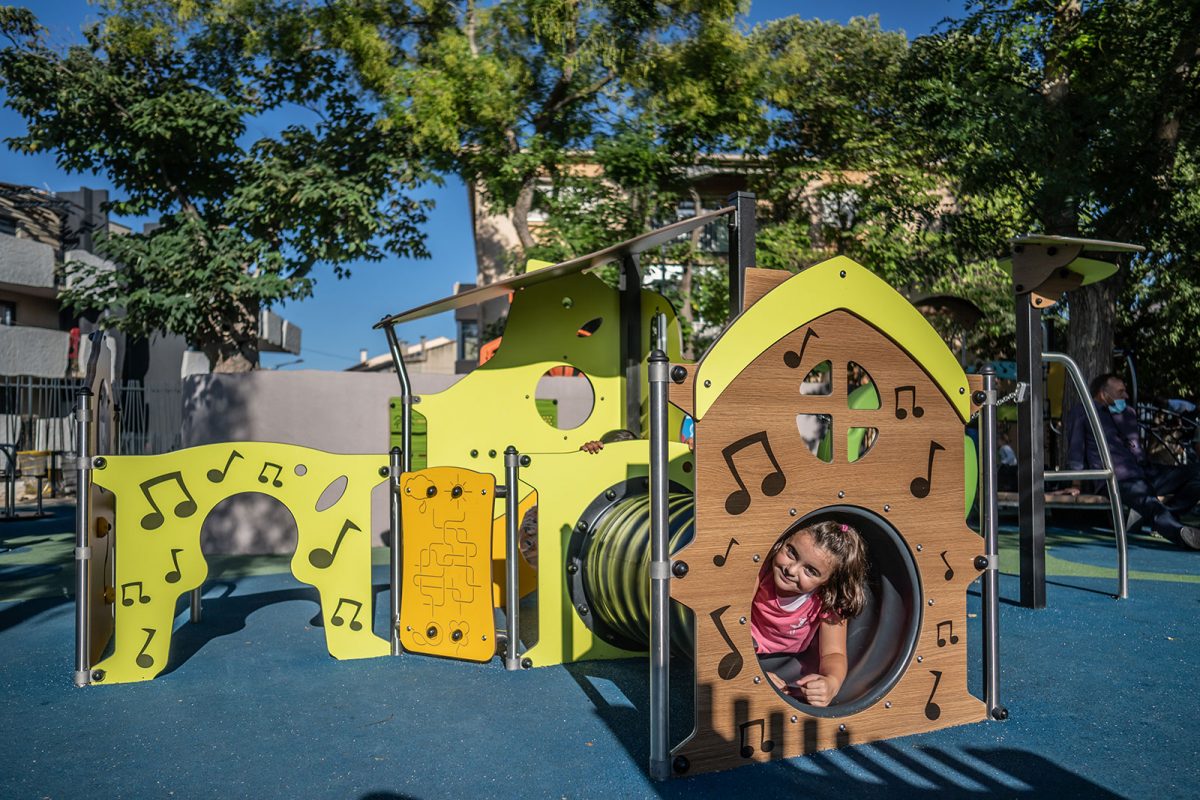 A space for children from 3 years of age
The second space is for older children from 3 years of age and revolves around a multifunctional Diabolo structure consisting of nets, a monkey bridge, a climbing wall, a ladder, a sliding pole and a slide.
The play area also incorporates lots of play panels designed to challenge children's observational and analytical skills. The height of these panels allows wheelchair children to play with their little friends. Roundabouts and springers are also distributed throughout the park.